The goals of the Kyushu University Academic City
Significance of the plan
The Kyushu University Science City Plan is a comprehensive integration of the Academic and Technology Basic Plan, the National General Development Plan, the Northern Kyushu Science City(Asias Kyushu) concept that emphasizes stronger links between Fukuoka and Saga prefectures and the nations of Asia, and the ongoing restructuring and relocation of Kyushu University. The goal is to create a regional knowledge hub and knowledge clusters in the region appropiate for the 21st century: the Age of Knowledge.
Area covered by the plan
The plan stretches over the area from Fukuoka City to Karatsu City, running along the Genkai Sea.
Primary Region:The entire Itoshima Peninsula, centering on the Kyushu University campus, forming the daily living region.
Secondary Region:The area within a half-day's travel from the new Kyushu University campus, between Fukuoka City and Karatsu City.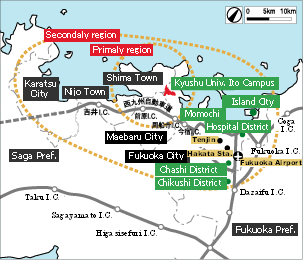 Key concepts in the plan
a)Four guiding principles
・Realization of a cooperative society
・Utilization of creativity
・Exchange with Asia and the world
・Development of new industry
b)Two cores
・A regional science and technology system to promote knowledge exchange and creative activity
・A newly-developed area to serve as the base for knowledge related, residential and leisure time activities.
Future image of the Kyushu Univercity Academic City(based on status as of FY 2002)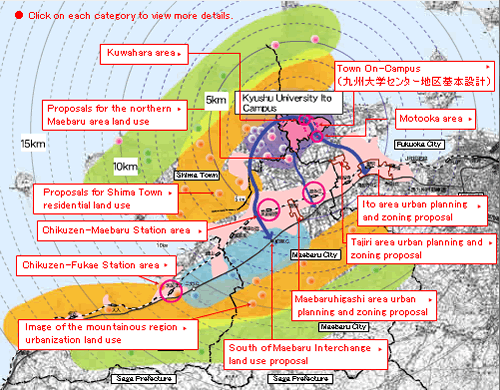 Legend

Research/training zone
Residential/research zone
Research/industrial zone
Residential/recreation zone
Regional Core(HOTARU) of research/training
Regional Core(HOTARU) of residential/research
Regional Core(HOTARU) of research/industrial
Regional Core(HOTARU) of residential/recreation
Regional Core(HOTARU) of composite
New Kyushu University Campus
Urbanized zone
Planned roadway
Administrative boundary